DAVAO CITY, Philippines – He was a pioneer of the ruling party and gave way as party chairman to President Duterte last year.
Sacked interior secretary Ismael Sueno was one of the original members of the Partido Demokratikong Pilipino (PDP) that was formed by Aquilino Pimentel Jr. in 1982.
The first incarnation of the group was mostly made up of Mindanaoans who protested the authoritarian rule of the late strongman Ferdinand Marcos.
In 1983, PDP merged with Lakas ng Bayan. The PDP-Laban pushed Corazon Aquino, widow of Laban founder opposition senator Benigno Aquino Jr. to run for president in the 1986 snap elections.
Sueno became chairman of PDP-Laban after then-vice president Jejomar Binay bolted the party to form the United Nationalist Alliance (UNA) coalition.
In 2016, PDP-Laban became the ruling party, with Sueno giving way to Duterte as party chairman when he took his oath in February 2016.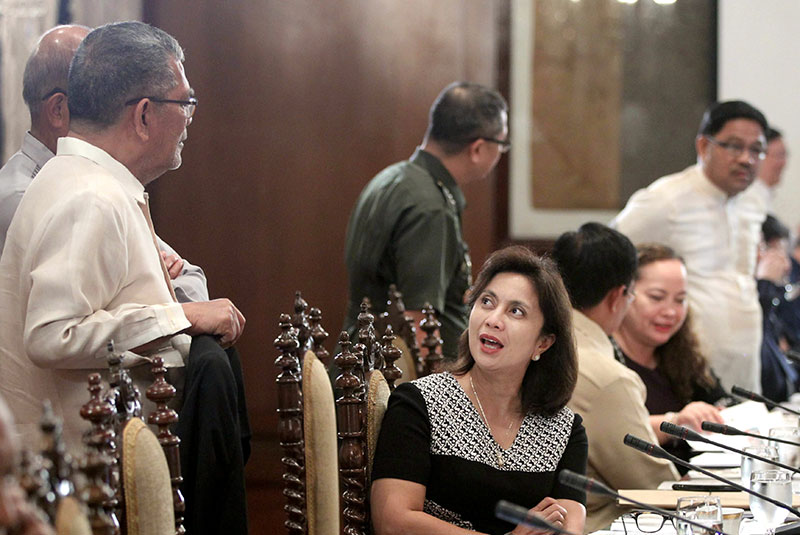 File photo shows Vice President Leni Robredo talking to Ismael Sueno at Malacañang last year.
Sueno began his long political journey by first being elected municipal mayor of Koronadal, South Cotabato in 1980, during the administration of Marcos.
In 1986, after the EDSA People Power Revolution, Sueno was appointed by then president Aquino as officer-in-charge (OIC) governor of the province of South Cotabato.
Sueno then ran and served a full term as provincial governor of South Cotabato from 1988 to 1992.
In 1997, Sueno was appointed to the Southern Philippine Council for Peace and Development (SPCPD) Consultative Assembly by then-president Fidel Ramos.
With failed electoral forays after 1992, Sueno ran for vice president in the 1998 presidential elections, but lost to Gloria Macapagal-Arroyo.
In 2001, he ran for a House seat to represent South Cotabato's 2nd District but lost to Arthur Pingoy Jr.
In 2007, he made yet another unsuccessful bid for vice governorship of his province under the administration party of Arroyo.
By: Edith Regalado (The Philippine Star)